We are pleased to announce that the winner of the 2019 ARDHJE Award for Young Visual Artists from Albania is Endri DANI with his work "The fourth layer (2017).
The 2019 Ardhje Award Winner was announced by Amy Zion, one of the international jury members (including Noit Banai and Remijon Pronja) during the opening ceremony of finalist's exhibition on Monday, November 4, at Zeta Gallery – Tirana.
The ARDHJE Award 2019 Winner will have the opportunity to take part in a two-month artist-in-residency program in New York, organized by Residency Unlimited, and generously supported by the Ministry of Culture of the Republic of Albania, and The Trust for Mutual Understanding, New York. The winner will also have an opportunity to show the results of his residency abroad through a solo exhibition at ZETA Gallery.
Besides Dani's work, the 2019 ARDHJE Award Finalists Exhibition (curated by Alban Hajdinaj) is featuring: photographic installation by Blerta Hoçia ("Do I remember me", 2018), an installation by Matilda Odobashi ("Visibility is a trap", 2019), and a video installation by Elian Stefa ("White horses", 2019).
The Jury motivation;
All of these artists clearly have established aesthetic and conceptual parameters for their respective practices and are asking important questions about contemporary life and art.
This year, all three of us agreed that there is an artist who not only is at a critical moment in their artistic production and growth, but who also has a clear understanding of how to speak about their work and articulate a research project–one that is profoundly entwined with the context of New York City and would therefore benefit greatly from this residency opportunity.
This artist has demonstrated a deep understanding of art history through their choice of materials and how they enter into their subject matter, but importantly, they apply this knowledge to address matters that are specific, local, and grounded in issues related to Albanian history and the country's challenges and opportunities with respect to globalization. In the work exhibited tonight, they have also demonstrated an ability to work locally outside of Albania to address global issues, such as labor and the human relationship to the nature.
The exhibition remains open until November 13, 2019.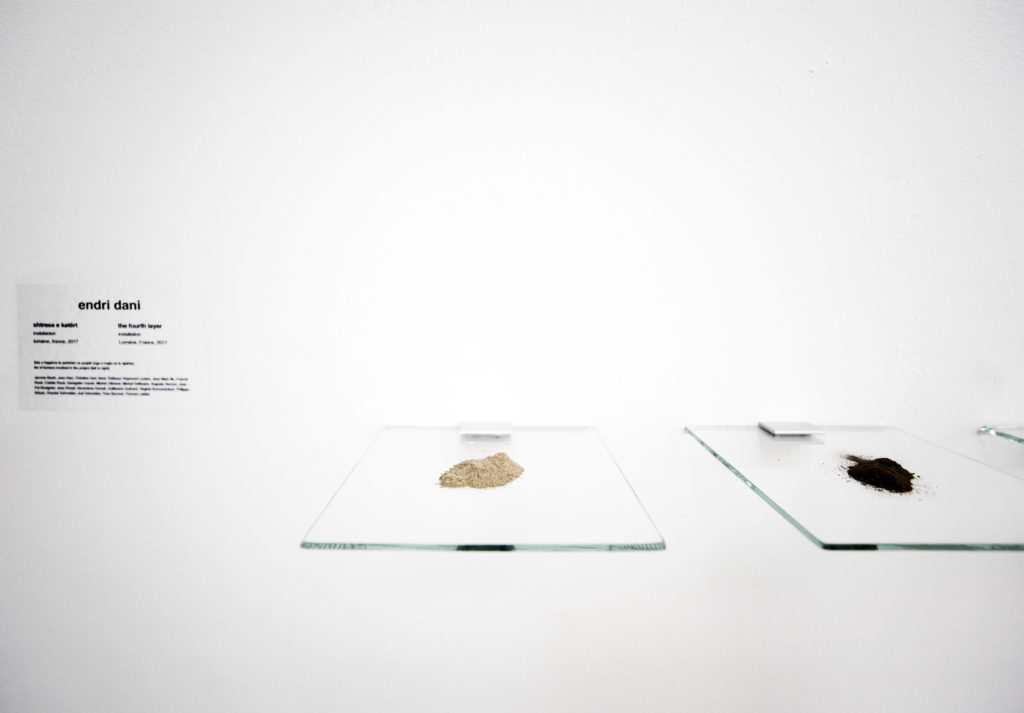 Endri Dani
"The Fourth Layer"
"The Fourth Layer" is a work in which Endri Dani turns his artistic focus towards human relationships with nature. Realized during a residency program oriented to such issues, somewhere in Western Europe, the work was developed in collaboration with several farmers who in their daily lives have constant contact with the land and its cultivation for the vital needs of humans. Dani has carefully "collected" the water with which the twenty farmers have washed their hands after leaving their daily work and have returned home to continue their daily activities at home. The artist then continued his work by removing the water from the vases with which he had collected it, leaving only the precipitated soil at the bottom of them. The exposed work consists of twenty glass containers where it is held the soil washed from the hands of each farmer and is titled "Fourth Layer" referring to the three layers that make up the human skin. The fourth layer is thus a continuum of the layers of human skin until the farmers are released from it at the moment they enter another habitat, which is their home. Carefully placed in expositor the "fourth layer" reminds us of how dependent our existence is on our nature and our planet while also functioning as a constant expression of Dani's artistic practice that usually relies on the discovery or identification of material layers to arrive at the non-material or at the idea of the work.
List of farmers involved in the project:
Jerome Bazin, Jean Hart, Christine Hart, Irène Thiébaut, Raymond Leclerc, Jean-Marc Ilic, Francis Rusé, Colette Rusé, Georgette Lhaute, Michel Clément, Michel Hoffmann, Auguste Venzon, Jean Pol Buvignier, Jean Bouet, Genevieve Someil, Guillaume Guérard, Virginie Bonnaventure, Philippe Brissé, Chantal Schneider, Joel Schneider, Yves Bacourt, Thomas Leblan….