ARDHJE 2011
May 16 – 24 2011
T.I.C.A. –Tirana Institute of Contemporary Art, Tiranë in the collaboration with ZETA – contemporary art center, organized the ARDHJE Award 2011.
After an intense research process that started in March, the selection and curatorial team consisting of Zef Paci, Tina Finnäs and Valentina Koça, announces the list of talented artists, participants of the Grand Finale of Contemporary Art Award, ARDHJE 2011.
LEDIA KOSTANDINI, ARMANDO LULAJ, ILIR KASO, OLSON LAMAJ, SILVA AGOSTINI, YLLKA GJOLLESHA, SOKOL PEÇI.
The international jury: Alessandra Pioselli, curator and Director of Academy Carrara in Bergamo, Italy, Vladimir Myrtezai. Artist and professor of the Multimedia Atelier at the Academy of Fine Arts in Tirana and Stefano Romano, artist, curator and professor at the Polis University in Tirana, Albania selected Ledia KOSTANDINI as the winner of the prize.
The exhibition of ARDHJE 2011 is realized in collaboration with the Academy of Fine Arts in Tirana and made possible due to the generous support provided by: FAVA – The Foundation for Albanian Visual Arts.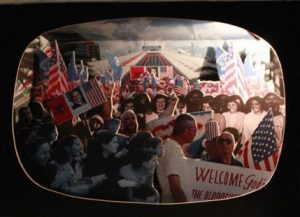 Ledia KOSTANDINI, Cartoon Movies, 2011. Installation. 
Cardboard, print, light bulbs, 5 pieces, each 30 cm x 20 cm x 15 cm